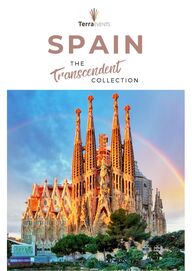 Return to flip book view
The Transcendent Collection Spain
Page 1
Page 2
WHEN THE IMPOSSIBLE TO GET
Page 3
MADRIDMadrid mucho gusto!Architectural apotheosisFast foot flamencoToledo, on the trail of El GrecoSegovia, a sophisticated sightMALLORCA Art attackThe Medieval town of AlcúdiaPearls of wisdomGrape mindsGame, set and matchTramuntana trekSightseeing of Palma de Mallorca BARCELONATABLE OFGaudí's Modernist BarcelonaThe other face of ModernismTapas & historic shopsSail and wineMontserrat from the skyPenedès wineFrom the market to the plate
Page 4
Over the course of the last 10 years ourTERRAEVENTS' teams have createdunforgettable experiences for discerningtravellers, our destination experts leavingno stone unturned in their search forperfection. A road to discovery which issurely the definition of transcendent - beyond the limits of ordinary, from thebizarre to the most opulent; a collection ofmoments leaving their mark withmemories which linger far beyond thepost-holiday haze. The Transcendent Collection is arefinement of our discoveries, fromwanderlust adventures to culturalimmersions. Experiences that showcasethe unique qualities of each of ourdestinations in an extraordinary manner,distinct from the conventional orcommonplace experiences ordinarilyproposed to the independent traveller. OurTranscendent Collection will unlock closeddoors to havens of hidden joys, mosaics ofhistory, art, and the distinctivelydistinguishing culture of each of ourdestinations.Start your own journey… create your ownstories… capture moments that matter.WHAT IS ?
Page 5
Page 6
Page 7
Page 8
Prepare to marvel at examples of the finest modernist architecture evercreated by a single mind. Our expert guide will meet you at your hotel beforewhisking you to "la Manzana de la Discordia" the "block of discord" where youwill cast your eyes upon four buildings of modernist design, but the similaritiesend there as these buildings are so different they clash in a cacophony ofmodernism. As if casting your eyes on iconic architecture isn't enough, you'll be grantedexclusive access to Casa Batlló a masterpiece of Antoni Gaudí. Behind CasaBatlló's captivating and polychromatic facade, tour the Batlló family's formerresidence enjoying an immersive experience with the world's only 10Dexperience to further enhance Gaudí's vision. Discover the many nooks andcrannies of this unique building, including the beautiful Patio de Luces andthe legendary rooftop and chimneys. Once your tour of Casa Batlló iscomplete, venture just a short distance for your next instalment of modernism,moving next door to Casa Amatller, the home of the Spanish chocolatedynasty. Here you can gaze upon the heavenly facades whilst sipping a cup ofthe finest hot chocolate and discussing the impact of Gaudí's modernism onBarcelona. GAUDÍ'SBARCELONA
Page 9
Duration: 4 hours caMin 2 Max 10 guestsAvailability: Monday to SaturdayBooking: at least 15 workingdays in advance. Subject toavailability
Page 10
THE OTHERFACE OFDuration: 4 hours caMin 2 Max 10 guestsAvailability: Monday to SaturdayBooking: at least 15 working daysin advance. Subject to availability
Page 11
Immerge yourself in the Modernist Barcelona, accompanied by our expertguide in a walk along the Passeig de Gràcia and more specifically the "laManzana de la Discordia" the "block of discord" to admire four modernistbuildings designed by the main Modernist Architects of the early 20th century.Four very different, almost "clashing", styles and interpretations of Modernism. We open the doors of one of them exclusively for you: Casa Amatller, thehistorical townhouse of the Spanish Chocolate Dynasty Amatller. Enjoy aprivate guided visit of this splendid creation, remodelled inside and out in 1900by the Modernist architect Josep Puig i Cadafalch. Combining Catalonia'shome-grown art nouveau style, modernism, and Arabic influences, CasaAmatller is a "one of a kind" building in Barcelona. The house has retained allits original furnishings and decorations, as well as an outstanding collection ofdecorative arts, glass and photography. And what better way to finish your visitthan by enjoying a cup of delicious Amatller hot chocolate. Continue alongPasseig de Gràcia to view the exterior of Antoni Gaudí's urban masterpiecesCasa Batllò and La Pedrera (Casa Milà).
Page 12
Duration: 3 hours caMin 2 Max 10 guestsAvailability: Monday to SaturdayBooking: at least 15 workingdays in advance. Subject toavailability
Page 13
Travel back in time to discover some of the best kept secrets of Barcelona's oldquarter, exploring its historical shops and the finest tapas restaurants youcould hope to find. If you are in search of an indulgent experience then look nofurther as you meander through the old and historic but ultra-chic artisanalneighbourhood of Born, uncovering traditional shops and stopping to enjoylocal food and drinks in the best cafés. As you journey through the streets you will be treated to exclusive behind thescenes access to some of the best local artisans and designers. FromBarcelona's oldest bakehouse where you will feast on traditional pastries andsweets to a famous espadrille shop who, still to this day, handmakes thisemblematic Spanish shoe. Along the way our guide will take you to four of ourfavourite tapas spots to enjoy 'la hora del vermut' with some delicious Spanishbites and take a deep dive into the culture of tapas/pintxos. An experience notto be missed.& HISTORICSHOPS
Page 14
AND Duration: 5 hours caMin 2 Max 10 guestsAvailability: everyday Booking: at least 15 working daysin advance. Subject to availabilityand weather conditions
Page 15
Catalan culture is steeped in traditions, many of which are based around twokey elements which have driven prosperity to the region - wine and sea. Spenda day immersing yourself in these elements as our personal guide transportsyou safely to Barcelona harbour to board your private vessel and embark on acruise along the stunning coastline. Indulge yourself, enjoying lightrefreshments as you soak up the sun and take in the views, before jumpingashore at the port of Masnou. Here you will swap wind power for horse poweras you are whisked in shore to an ecological vineyard in a vintage Seat 600, acar originally produced in Barcelona. At the vineyard you will be treated to apersonal tour from the owners themselves, hearing first-hand the history andstories attached to the vineyard, discover the secrets to making the finestSpanish wine and cava and enjoy a luxury wine tasting before your returning toBarcelona.
Page 16
The sky really is the limit as youembark upon a thrilling adventure ofthe Montserrat mountains in a hotair balloon. Just a 45-minute drivefrom the hotel accompanied by ourprivate guide will find youensconced in the Catalancountryside for the start of yourhigh-altitude adventure. Take to theskies in a hot air balloon and literallygo with the wind, admiring breath-taking views as the sea meets theunusual formations of theMontserrat mountain. Upon landing,you will be invited into a traditionalMasia (farmhouse) to partake of awell-deserved brunch of localdelicacies to replenish your energies. From here, hit the road to explorethe Montserrat mountains, a symbolof Catalonia and an inspiration toartists such as Antoni Gaudí. Ourguide will introduce you to thehistory of this mountain range, andits beautiful Benedictine monastery,which has become an importantpilgrimage site. From tales of the'Black Virgen of Montserrat' toWorld War II searches for the HolyGrail, prepare to be amazed by therich history of these incrediblehighlands.MONTSERRATFROM THE Duration: 8 hours caMin 2 Max 10 guestsAvailability: everydayBooking: at least 15 workingdays in advance. Subject toavailability and weatherconditions
Page 17
Page 18
Escape the city to Catalan's rolling countryside as you venture into one of theregion's most treasured vineyards. Immerse yourself in the traditions ofSpanish wine and Cava production, guided by the original family who foundedthe vineyard in 1850. You will explore the unique methods and principles thatsurround this organic and biodynamic vineyard. Follow the process from vineto cellar where you can see bottles aged over 100 years old, then onto a winetasting to uncover the impact the unique Penedès soil has on its flavour. Onceyour tasting is completed prepare for a gastronomic delight as you feast on alunch prepared with ingredients gathered from the biodynamic gardens ofthe vineyard.Enhance this experience with a horse trek through the vineyard where yourguide will share further information about the local ecology and the history ofthe vineyard.PENEDÈS
Page 19
Duration: 7 hours caMin 2 Max 10 guestsAvailability: everyday Booking: at least 15 workingdays in advance. Subject toavailability
Page 20
FROM THEDuration: 5 hours caMin 2 Max 10 guestsAvailability: Tuesdays to SaturdaysBooking: at least 15 workingdays in advance. Subject toavailabilityTO THE PLATE
Page 21
Get under the skin of Spanish gastronomy and understand how and why foodsits at the heart of Spanish culture. This experience is like no other and istailored to your individual tastes, your chef for the day will welcome you to yourprivate kitchen and get to know your palate through asking questions,together you will create a bespoke menu making the most of Spanishingredients and culinary traditions. Now the adventure begins as you head offto the market, with the kitchen located perfectly between two of Barcelona'sfinest markets 'Boqueria' & 'Santa Caterina' this will be a cacophony for thesenses as you follow your chef, learn how to select the freshest ingredients, andpick up tips for bartering in the local language. Then, back in the kitchen, thechef will guide you step-by-step through the process of creating your epicmenu, picking up skills and tips along the way. Now for the best bit, sit backand savour the flavours, as you enjoy your meal you will be treated to aselection of Spanish wines that the chef has paired personally. An experiencenot to be missed.
Page 22
Page 23
Page 24
Page 25
Open your eyes to the wonders of Madrid with an extraordinary sensorialexploration of the relationship which links two distinct genres of art, finepainting and creative cuisine.Kick start your morning with pre-opening out-of-hours access to one ofEurope's finest art galleries – the Prado. Relish a singular viewing of themuseum's iconic painting Las Meninas by Velasquez, take in magnificentmasterpieces by Titian, Goya, Raphael, El Greco, Rubens and Van Dyke thefavorite painter of the Spanish king, Charles V – a rare opportunity to enjoyundisturbed views of this exemplar collection of priceless works of art.After cruising the Prado, further satiate your senses with a visit to Madrid'sbuzzing and diverse food scene, found in its neighbourhood markets. SanAntón, located in the cosmopolitan Chueca neighbourhood, with the addedlayer of a rooftop terrace restaurant; Antón Martin, a traditional market in thebohemian Huertas neighbourhood - two floors and 60 stalls offering foodstuffsand much else from shoes to ceramics; and San Miguel, an architecturaltriumph and gastronomic temple in the central Los Austrias area. A host ofopportunities to enjoy a typically Madrileno epicurean experiences, with tonesand tastes to appeal to every palate in this magical vista of edibles. Top off this experience indulging in a festival of flavours with lunch at LaPosada de la Villa, serving traditional Castilian-Madrid cuisine in acharacteristic Madrileno inn including the speciality roast lamb cooked in ahuge wood-burning oven. A day well-spent, in every sense!Duration: 8 hours caMin 2 Max 9 guestsAvailability: Monday to SaturdayBooking: at least 15 workingdays in advance. Subject toavailability
Page 26
Discover Madrid from the luxurious comfort of a 1930's inspired classic car,exploring the city's monuments and architecture, testimonials to both itshistory and evolution. Journey through the history of Madrid where decorative 18th century palacessit alongside imposing 19th-century buildings, Art Deco skyscrapers, concreteModernist blocks and 21st-century glass-and-steel interventions.First stop, a private visit to one of Madrid's hidden gems, the Palacio de Liria,extravagant abode of the Duke of Alba housing one of Spain's richest andmost interesting private art collections. Eye up paintings of many greatmasters, including Goya, Velàquez, El Greco, Ribera, Rubens, and Titian, an exquisite and priceless jewellery collection and a compendium of originalletters of one of the world's most renowned explorers, Christopher Columbus. Back to four wheels to cruise the city, passing sights such as the CibelesFountain, the beautiful Castellana Avenue, the Plaza Mayor, the heart of oldtown with its picturesque shops, the Puerta del Sol and on down the Gran Via,the bustling main artery of the city. A true tour de force!Architectural
Page 27
Duration: 5 hours caMin 2 Max 10 guestsAvailability: Monday to SundayBooking: at least 15 workingdays in advance. Subject toavailability
Page 28
Page 29
Duration: 5 hoursMin 2 Max 10 guestsAvailability: Tuesdays to SaturdaysBooking: at least 15 workingdays in advance. Subject toavailabilityImmerse yourself in the spirit of Spain's most representative music genre andone of the greatest exponents of Spanish culture. Visit a flamenco school,nestled in the characteristic streets of the old town, to unravel the secretsbehind this passion art form. Lose yourself in the fine wares of the specialityboutiques selling spectacular traje de flamenco costumes and heels (theprofessional dance shoes) and slip into a guitar workshop where skilledcraftsmen create the instruments at the centre of this rhythmic and harmonicmusical style. An experience over-whelmingly different to that provided by the usual touristrestaurants-cum-theatres, where the focus is less on art and more on showydance-steps and twirling polka-dot skirts. This is an extraordinary opportunityto learn about the concept of duende, an almost spiritual state of heightenedemotion which performers and spectators alike will experience as they sharethe rhythms, nuance and passion of this purist experience of flamenco.
Page 30
Just 30 minutes outside of Madrid, perched on a hilltop, Toledo is nothing lessthan a treasure. Overlooking the arid plains of Castilla, the setting for DonQuixote's La Mancha, Toledo enjoys an important place in Iberian history. Oneof the charms of Toledo is its intimacy – tiny alley ways leading off from thePlaza de Santa Clara, courtyards shaded by verdant foliage, time worn palacesand houses gracefully lining the streets and one of the greatest cathedrals inthe world. Savour an exclusive visit of areas closed to the public; the 'Queen'sbalcony' from where Isabel La Católica discreetly viewed the congregationbelow; the beautiful Higher Alter, and the masterpiece which is El Greco's 'TheDisrobing of Christ' in the sacristy. Keeping on the El Greco trail, moving fromthe Cathedral to the Church of Santo Tomé, to view yet another masterpieceby this exceptional artist, 'The Burial of the Count of Orgaz'. And why not enhance your experience by enjoying a sublime lunch at therestaurant Adolfo Toledo, offering Toledo hospitality at its best. This restaurant,housed within a 12th century townhouse, with a magnificent medieval paintedceiling, is the flagship of the gastronomic empire of local entrepreneur andmaster chef Adolfo Muñoz, renowned for his interpretations of traditionalregional cooking, such as the city's signature dish, perdiz (partridge) braised inwine from the restaurant's formidable cellars.
Page 31
Duration: 8 hoursMin 2 Max 4 guestsAvailability: Monday to SaturdayBooking: at least 15 workingdays in advance. Subject toavailabilityON THE TRAIL OFEL GRECO
Page 32
Be swept from Madrid on a journey ofjust over an hour to wonder at theimmense beauty of the old city ofSegovia. It sits like a moated castle on arock incised by two rivers, itsimportance to the Romans still amystery but sufficient to justify theconstruction of this magnificentaqueduct to carry water to the upperpart of the city. Stroll the city and be awed by thecacophony of distinct sophisticatedarchitectural styles which reflect thevarious periods of its history and thecultures that have converged here.Segovia is also home to the 12thcentury Alcazar castle, the inspirationfor Walt Disney's castle in California,with its turrets and tower above thedrawbridge and the 16th centuryGothic cathedral, the last of its style tobe built in Spain. Other sights you maywish to visit during your free time, theReal Casa del la Moneda (Royal Mint);the House Museum of the poetAntonio Machado and the Gate of St.Andrew.No visit would be complete without ataste of its famous roasted suckling pigor "cochinillo", our recommendation totake your place at Mesón Cándido, themost well-known restaurant in townand a monument to regional cuisine. A SOPHISTICATEDSIGHT Duration: 9 hours caMin 2 Max 4 guestsAvailability: Friday to SundayBooking: at least 15 workingdays in advance. Subject toavailability
Page 33
Page 34
Page 35
Page 36
A 30 minute drive from Palma, Valldemossa is an historic village, 435 metresabove sea level, nestled between the UNESCO World Heritage Site Serra deTramuntana and the Mediterranean Sea. This picturesque hamlet, a pearl ofthe Mediterranean, has attracted artistes of the likes of Chopin, Robert Gravesand George Sand who described Valdemossa in her book, "Winter in Majorca","everything that a poet or a painter could dream of, nature has created inthat place". Sand was referring to the 400-year-old Carthusian monastery, andthe view seen from the terraced olive groves of the sea glinting in the distance. Surely the perfect setting to enjoy a piano concerto, a repertoire of the finestcompositions of Valdeossa's most famous musical resident – Frédéric Chopin. Treat yourself to lunch at the Michelin starred Bens D'Avall restaurant, thisclifftop Mediterranean restaurant. This family-run un business, offers creativereinterpretations of traditional Mallorcan food featuring the freshest of localingredients. If you wish to further enhance your trip, we'll be happy to organise an exclusivevisit of to an artist's studio, to observe him at his work, discuss his techniquesand enjoy a private viewing of his paintings.
Page 37
Duration: 8 hours caMin 2 Max 4 guestsAvailability: Monday to Saturday,from June to October Booking: at least 45 days beforethe activity. Subject toavailabilityATTACK
Page 38
Page 39
Explore Sa Bassa Blanca Museum (MSBB), one of the most impressive andunique museums in Mallorca, set within a protected wildlife area in the walledmedieval town of Alcúdia, in the northeast of the island. As part of your experience, you will enjoy a private visit to the Observatory, thehighest point within the museum, housing an exhibition room and spectacularpanoramic view of the entire bay of Alcúdia. Embark on a walking tour to visitthe main square and the old streets with their cafes, beautiful terraces, artisancraft shops, stylish boutiques and Mallorcan specialities. Your guide will sharewith you the history and significance of the imposing Town Hall building andof Alcudia´s most iconic landmarks: the church of Sant Jaume. We recommend you lunch at Bistró del Jardín in Puerto de Alcúdia. ChefMaca de Castro has created here a summery atmosphere that´s both casualand friendly, offering cuisine inspired by Mallorcan traditions. If you have ataste for seafood this is a not to miss visit. Duration: 8 hours caMin 2 Max 4 guestsAvailability: Wednesday to Sunday Booking: at least 15 workingdays in advance. Subject toavailability
Page 40
It's a little-known fact that Mallorca is home to the manufacturing process ofexquisite. Embark on a journey to uncover the history, the craft and the secretsbehind the creation of this world-acclaimed jewellery accoutrement. In the early 20th century, a German innovator Edward Heusch settled inManacor, Mallorca and joined forces with the Majorcan glass blowers to inventa technique for the creation of man-made pearls, making them almostindistinguishable from the natural product and accessible to a wider range ofconsumers. Enjoy a private visit to the Orquidea Majorca Pearl Factory, museum andshowroom located, just outside the town of Montuiri.With Mallorca's glass blowing craft being a driving force behind the productionof man-made pearls, our next stop will be the Gordiola Glass factory. Originallyfounded in 1719, this family run business still maintains the artisanal traditionsof years past. Observe master glassmakers as they practise their craft, creatingunique artisan glassware. For a perfect end to your morning, treat yourself to a gourmet lunch at DINS bySanti Taura. Chef Taura, winner of two "Soles Repsol" and one Michelin star inthe 2021 guide is dedicated to creating traditional cuisine which explores theorigins of Majorcan cuisine to the manufacturing process of exquisite pearls.
Page 41
Duration: 7 hoursMin 2 Max 4 guestsAvailability: Monday to FridayBooking: at least 15 workingdays in advance. Subject toavailabilityPEARLS OF
Page 42
The Bodega Finca Biniagual is theisland's oldest winery. With a 300-year history and 100 acres ofvineyards, this family-ownedbusiness is a must-visit for wineaficionados. Visit the vineyards andcellars, learning the cornerstones ofa wine production which includesthe perfect setting to enjoy a tastingof the estate's famous winesaccompanied by a rich selection oftraditional cold Majorcan tapas. MINDS
Page 43
Duration: 6 hours Min 2 Max 4 guestsAvailability: Monday to SundayBooking: at least 15 workingdays in advance. Subject toavailability
Page 44
Duration: 8 hoursMin 2 Max 4 guestsAvailability: Monday to SundayBooking: at least 15 workingdays in advance. Subject toavailability
Page 45
If sport is your passion, a visit to the Rafa Nadal Museum Xperience is a must.Admire Nadal's trophies, together with sports materials donated from worldfamous athletes across the globe and immerse yourself in the museum'sstate-of-the-arts audiovisual technologies with interactive screens to live yourown sports experience. Be sure to bring your whites for a singular sportingexperience at the tennis clinic of the Rafa Nadal Academy. Polish your servingskills and improve your tennis technique with an exclusive lesson from one ofthe academy instructors.Just a short stroll away, Porto Cristo is a picturesque fishing village overlookingthe transparent turquoise waters on the sheltered bay. GAME, SETAND
Page 46
This is by far the best way to discover the real and most authentic Mallorca aswe take you on a tour by road and on foot through the Majorcan mountains faraway from the hustle and bustle of the tourist traps. Our picturesque trail willtake you from Estellencs to Banyalbufar, two traditional, authentic, andromantic coastal villages which seem to live in blissful ignorance of the touristswho flock to other areas of the island. Be ready to battle gravity as you ride and trek the Tramuntana, passing through stunning woodlands, vast expanses ofolive groves and ancient agricultural terraces which earned the range WorldHeritage Status in 2011. Be rewarded for your endeavours by the finest views ofthe island. End your morning sitting at a shaded table, feasting on Manchegocheese and olives, tasting a selection of delicious vintages wines while enjoyingincomparable views of the jagged peaks of the Serra de Tramuntana and waybelow the glittering Mediterranean sea.
Page 47
Duration: 5 hoursMin 2 Max 8 guestsAvailability: Monday to SundayBooking:at least 15 workingdays in advance. Subject toavailabilityTREK
Page 48
An opportunity like no other to enjoy a fully customised tour of the FundacióMiró Mallorca to discover the life and works of Joan Miró. Your tour will eitherbe conducted by the director of the Foundation and/or the artist´s grandson. Ashort conversation upon meeting will allow your guides to curate a tour bestsuited to your personal interests where they will regale you with personal talesand stories about the artist. Whilst the visit is customisable, as a rule it normally includes an introduction tothe foundation, explanation of the Moneo building with the permanentexhibition and collection, the Sert collection, and workshop, exterior andinterior with restricted access to the first floor of Son Botter. As well as JoanMiro´s workshop "Tallers d´Obra Gràfica", and lithography workshop. During your visit you will also stop at Ca´n Joan de s´Aigo, founded in 1700,this family owned historical shop offers you the opportunity to taste itstraditional chocolate with "ensaimada" or an ice cream.SIGHTSEEING OF
Page 49
Duration: 4 hoursMin 2 Max 9 guestsAvailability: Tuesday to SundayBooking: at least 45 daysbefore the activity. Subject toavailability.
Page 50
spain@terraevents.comwww.terraevents.comwww.terraeventslifestyle.comIf you're searching for something in particular? Somewhere in particular?As masters in the creation of countrywide experiences our expert teams in Italy, France,Portugal and Spain are waiting for your call!Spain is not our only area of expertise, we have on the ground teams across Italy, Portugaland France.drop us an email at:brochure created by Francesca Giancola & Sydney Iodice